After four years of development and the passing of my collaborator and friend, my second graphic novel is about to drop. On July 3rd, 2012 the book will be available to all. It's a bittersweet time that also marks two years since Harvey's passing, so it's a strange mix of pride and sadness. I hope that he would be happy with the final book. My favorite part of the book is the car interlude with Harvey and I cruising around Cleveland. Here's a sneak peek:

On June 18th I kicked off the promo tour for the book at the 47th Annual Jewish Librarians Association Conference. I presented a 45 minute lecture called "My Pekar Years (2004-2012)" where I detailed how I met Harvey and what our process making comix was like. I then spoke about how the book evolved and how I finished the book without him. Included in the presentation were images of sketches, extra photos and a never-before-seen video clip of Harvey in January of 2010.
Here's a snapshot I took while the audience watched said video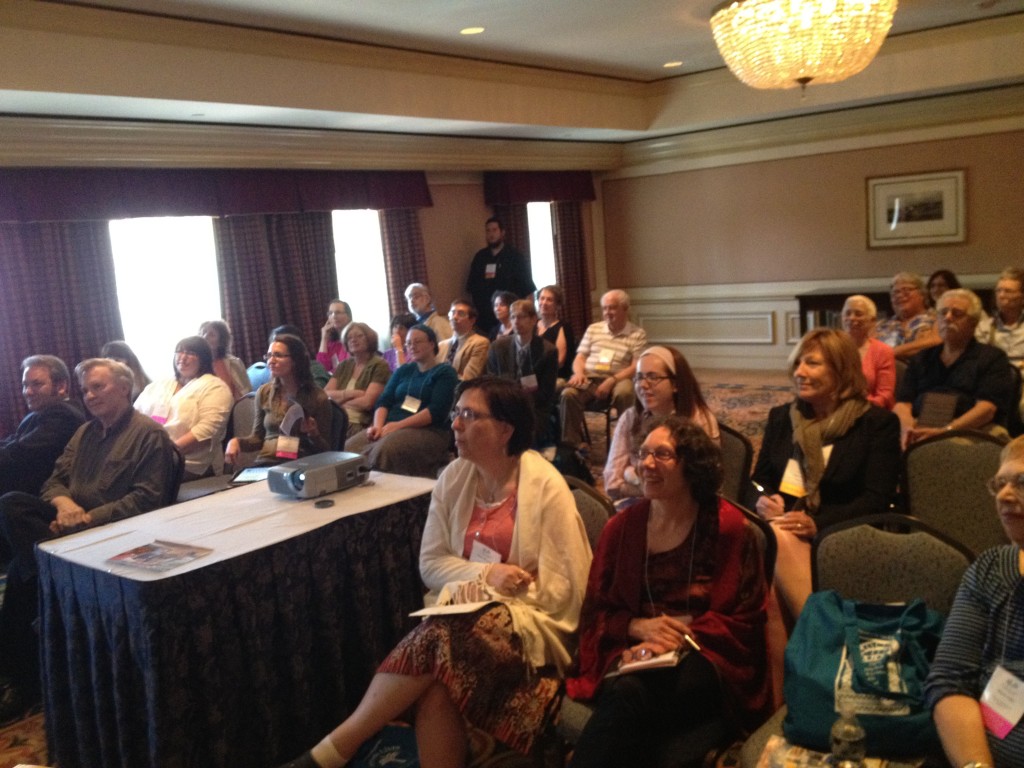 Also featured during the Jews and Comics lecture block was Arlen Schumer, who gave a lively presentation on the Jewish roots of super-heroes. I also met some nice comix and design aficionados Michael Dooley and Michael Aushenker.
I love librarians, so this was a great place to kick off the promotional tour for Not The Israel My Parents Promised Me (NTIMPPM) I had some marvelous conversations with extremely bright people. The book was warmly welcomed and copies of Megillat Esther were sold within an hour of the first day. Thank you to all the great people I met at AJL 47.
Next up, on the promo tour is San Diego Comic Con where Not The Israel My Parents Promised Me will be making its official debut! Big thanks to Mysterious Galaxy at Booth 1119 for carrying both my books at SDCC2012. I'll be doing a presentation on the Legacy of Harvey Pekar and then a signing. Here's the official info:
San Diego Comic Con 2012
Legacy of Harvey Pekar
Saturday, 7/14/12,
4:30p.m. – 5:30p.m., Room: 26AB
Signing is just after:
Saturday AA18 06:00 PM – 07:00 PM
Come say hi!
The official release parties for the book will be in early September in both NYC and then Philly! Also, in September there will be an exhibition of original art from the book in Philly, while in Cleveland the installation of the Pekar and comix statue at the Lee Road Library will be taking place in October. I'll be paying a visit to Case Western, University of Kentucky, Rutgers and a few other universities while also promoting the book at the Baltimore ComicCon, the Miami Book Fair and maybe somewhere near you!