Ed Brubaker, Eisner Award winning comix author said last week at Tr!ckster,
"It's not really Comic-Con anymore, it's IP-Con!"
Oh no, not another blog post lamenting the "good ol' days" when San Diego Comic-Con was an intimate affair of a few thousand geeks?! Indeed, SDCC is not the comic book convention you once knew. Artist Alley is more of a ghetto or cul-de sac rather than what its name implies. It's not a convention to go hunting for that missing issue of Starman from '92. It's not about the stories or art in comix.
SDCC is all about swag and purchasing random shit you can't find in other more sensible places.
I mean, look at the size of the bags each person receives upon entering the con:
In order to enjoy myself I needed to modify my expectations of San Diego Comic-Con. Moving forward I couldn't get frustrated by the gestapo police patrolling the freebie table to ensure that only approved content was distributed for free–thus destroying the freebie matrix. I would forget seeing ANY of the TV panels since I don't want to camp out the night before to see the Simpsons panel and endure hours of hanging with those True Blood weirdos. And the hordes of geek-paparazzi tumbling over themselves trying to snap a pic of lady Loki made me a lil shy about snapping photos and becoming one of them.
Once my perspective was corrected I was able to enjoy the consumerism and fantasy of it all. Especially all those Bible thumpers with the yellow signs telling us we're going to Hell on the street corners outside the con.
Knowing that my enjoyment was bothering them made it all the more sacrilicious at SDCC2K12!
What I liked most about this year, was that I got to MEET people. Before we even got to the convention my buddy met one of the Deviant Art Winners selected from around the globe to visit SDCC. A Catalan artist who had never visited the US before, we took Mado into our circle, fed her, and sent her back into masses. She was sweet, and a talented artist with all the excitement and confusion of Comic-Con-first timer.
The second day of SDCC2012 I went to a Trickster symposium with the aforementioned Ed Brubaker, Matt Wagner, Scott Morse and a bunch of other comix writers/artists. It was cool hearing them all shoot the shit and see the people behind the stories. Afterwards I bought Matt Wagner a drink and we talked for a good 45 minutes about life and comix. (Mr Wagner is one of my favorite writers/artists from my youth. Grendel was my obsession for many years, meeting him was simply … AMAZING:)
Later that night I went to a posh pop-up restaurant in a sleek penthouse on the marina in Little Italy. Some of "the most interesting people" attending SDCC were invited to dine together and bump elbows during an extravagant six course meal.  As pretentiously unctuous as that sounds, the event was full of very nice people (sans one grumpy musician) and I got the chance to bro out with ANOTHER childhood comix obsession. This time, Image Comics co-founder and Penciler for the Uncanny X-Men, Marc Silvestri was talking shop with me?! I was totally geeking out and surprised with how cool and laid back Marc was. His wife was sporting crazy Gaga shoes and he stands a staggering superhero size and he was really nice. He even gave me props on my work, so that was really freaking COOL!
My favorite cosplay of the con was this little number: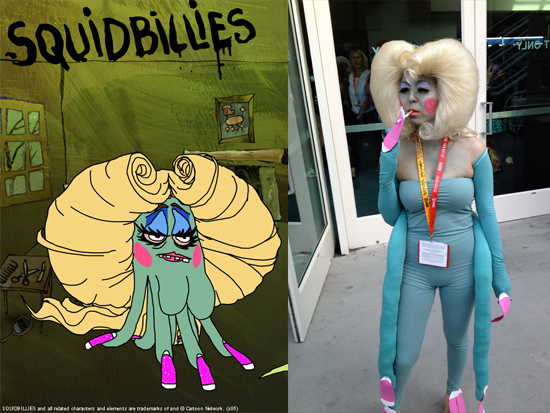 I had no idea who she was but her attitude and camel toe was just banging! Turns out she's a cartoon from Adult Swim named Lil Cuyler.
I also had the chance to meet some of the people at MadeFire and checked out their new Motion Book platform, which was pretty cool. I would love to get Megillat Esther on that.
The other major highlight worth mentioning was the session I presented on The Legacy of Harvey Pekar. Thanks to all the people who came out to celebrate the life and work of "our man."
All in all it was a great convention as you can see from the photos I snapped on Flickr. I got some cool comix and great tshirts (I'm looking at you Unshelved!).
Who knows, maybe next year I'll go back …